hydraulic press
Production of hydraulic presses and cylinders
A hydraulic press is a press driven by a high pressure fluid. The hydraulic press was invented in 1795 by one of the founders of hydraulic engineering, Joseph Bramah. Even nowadays the hydraulic press is sometimes called "Brama press".
The principle of operation of a hydraulic press is based on Pascal's law, according to which pressure on a liquid in one place is transmitted equally throughout its volume.
In modern industry, hydraulic presses are widely used in the manufacture of steel, plastic, rubber products (rubber). They even produce artificial diamonds. Hydraulic presses are used for cold forming, hot forming, drawing, etc.
LTD "Kantar" offers universal hydraulic presses of wide action, manufactured according to customer specifications. We design and manufacture hydraulic equipment for the production of the product required by the Customer.
We accept applications for the manufacture of hydraulic presses according to your specifications!
Mail to kantar@kantar-ts.ru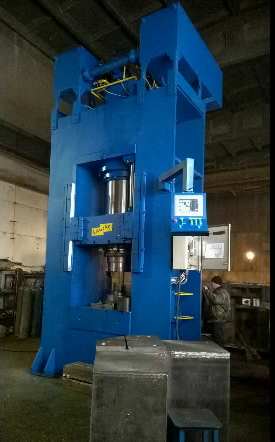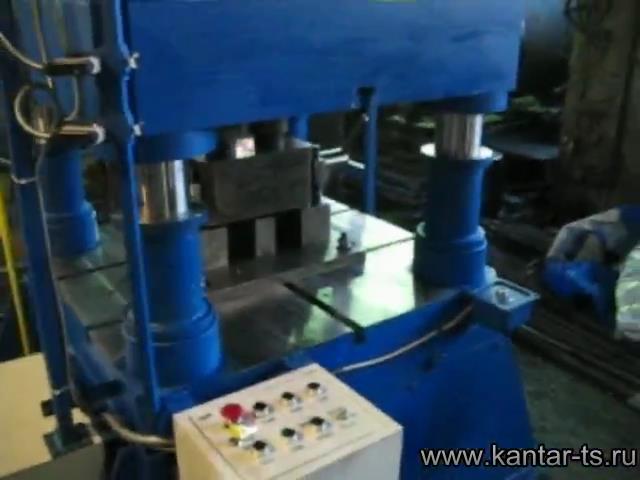 We produce:
160 Ton Hot Stamping Hydraulic Press
Hydraulic Press 900 Ton (Triple Action Hydraulic Press) - look in detail
Technical characteristics Hydraulic press 900 tons

Master cylinder force

-

t

900

Master cylinder stroke

-

mm

1000

Force of slave cylinders down / up

-

t

80/40

Auxiliary cylinder stroke

-

mm

1000

Master cylinder working speed

-

mm per second

3-7

Master cylinder travel speed

-

mm per second

40-80

Slide ejector force

t

300

Slider ejector stroke

-

mm

150

Effort of hydraulic cushion cylinders (movable table)

-

t

300

Hydraulic cushion cylinder stroke (movable table)

-

mm

150

Electric power

-

kWh

40-50

Power supply data

volts / Hz

380/50

Control voltage

-

volt

24

Hydraulic system working pressure

-

MPa

25(30)

Press width

-

mm

1800

Press height

-

mm

6300

Press length

-

mm

3900

Working window height

-

mm

1600

Working table width

-

mm

1200

Working table length

-

mm

1200

The weight

-

kg

49000
Hydraulic press of rubber goods (industrial rubber goods) -

look in detail
Technical characteristics of the press for the production of industrial rubber goods
| | |
| --- | --- |
| effort | 100 t |
| plate size (without T-slots) | 400х400 mm |
| Heating temperature | 200 °С |
| working space | 400 mm |
| working stroke | 315 mm |
| electric power of the oil station | 5 kW |
| Sliding table | 450 mm |
| refueling capacity | 125 liters |