Hot Forming Elbow Machine, Diameter 530mm
Hot Forming Elbow Machine. Produce Elbows to a Diameter 530
We offer you hot forming elbow machine to produce elbow size and standart that you need. This model PO-10-2r is used to produce elbow to a diameter 530.
This equipment can used to produce carbon and alloy steel elbows.
The technology process:
cut the tube size you need
hot forming elbow (usу special die - hot mandrel)
calibration
finish in beveling machine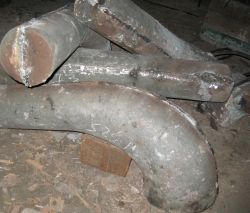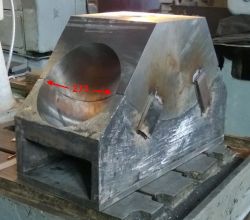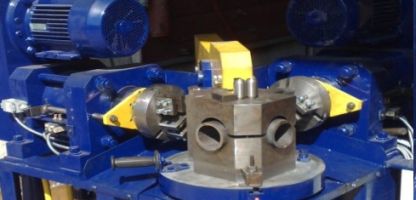 Для эффективного использования немерной обрези трубы при производства отводов методом горячей протяжки возможно перенастройка оборудования пресса правки для производства переходов. Для этого необходима специальная оснастка. Дополнительная информация предоставляется по запросу.
Photo gallery hot forming elbow machine

Technical characteristic

Name of the model
PO-10-2r
Diameter of elbows, mm
159,219- in 2 stream
273,325,426,530 in 1 stream
The quantity of elbows in the work shift
10-150
Service staff
3-5
Structure of the equipment
1. Hydraulic press

Dimensions, mm
7500х1450х1850
Electric pover, kW
35
Weight, kg
4500
Pressure, kg/ cm 2
10 — 90
2. Furnace for heating. We can equip gas burner

Dimensions, mm
2700х2100х2800
Electric pover, kW
5
Weight, kg
4800
Fuel consumption, l per hour
20-65
3. Hydraulic press with special hot forming mandrel

Dimensions, mm
Electric pover, kW
11-15
Weight, kg
1900-2300
The capacity of the hydraulic system, l
150-210