Butt Welded Fitting Machine
How to Produce Butt Welded Fittings
We offer you special hydraulic press to produce fittings (elbows, tees, reducers) according you standard (ASME, DIN, etc)
Technological process:
Cut raw material metal list in a special form.
Put it in a special mould (die) and press it.
Weld 2 parts of fitting
Finishing in a beveling machine
Hydraulic press (for butt welde fittings)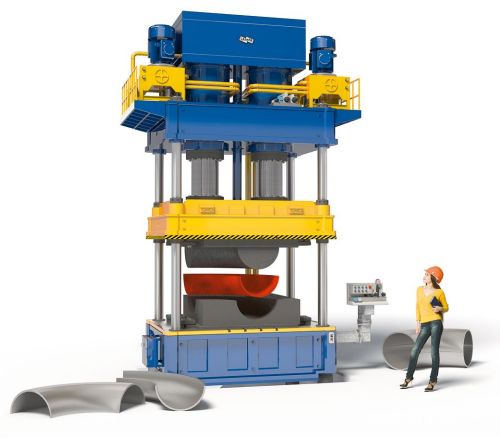 Technical characteristic
PSHD-720
PSHD-1020
Diameter of fittings, mm
325-720
530-1020
Dimensions, mm
2550 х 1880 х 5550
3800 х 2820 х 7900
Electric pover, kW
45
65
Pressure, kg/ cm 2
10-16
10-16

Oil tank capacity,

l
800
1300
Weight, kg
27000
65000

This hydraulic press allow to produce fittings to a big diameter and wall thickness.